Receipt Books and Invoice Books
NCR booklets for receipt forms and invoice forms are very handy as a copy of the form can be easily torn from the booklet and given to the customer, while leaving a copy in the booklet for the business. Pages are perforated for easy removal. A sturdy cover wrap maintains the booklet's integrity and can be inserted between forms to prevent transfer when completing the form.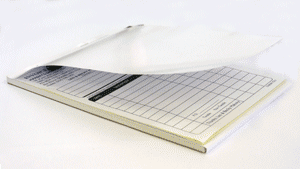 Numbering
NCR forms can be numbered for essential record-keeping. Just specify red or black ink and the starting number and all forms will be numbered sequentially. Learn more about sequential numbering.
Customizable NCR Form Templates
For your convenience we have developed preformatted templates for the most commonly used business forms – invoices or receipts, statements, purchase orders and work orders. These free templates are available in either Word or Publisher. Just add your company logo and contact information and we can print your custom forms in no time. Or, if you'd like, we can do it for you. Just give us a call.